Indian Premier League's thirteenth edition is about to start soon and the fans are all geared up for the new extravaganza of the T20 league. IPL draws a lot of attention and is one of the biggest and most lucrative sports league in the world with its franchise format. It involves overseas players as well as star Indian players that showcases their ferocious power, ability, and talent to the world of cricket fans.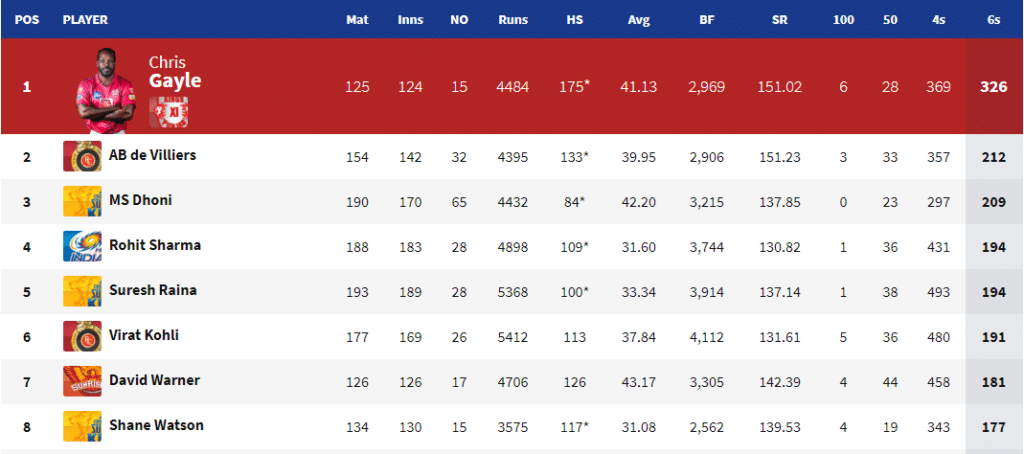 As the IPL follows the T20 format, the batsmen showcase their most athletic and explosive form with increased levels of speed, strength, and agility thereby reacting promptly to every ball. This gives the batsmen a great opportunity to reach for the maximums and awards the big-hitters a special place.
It is an exciting and nail-biting moment witnessing the batsmen hitting the small white leather ball over and out of the stands. The likes of Chris Gayle, MS Dhoni, and few others show wonders in thrashing the ball with their full potential and right timing.
With the IPLs 13th season around the corner, let's look at who has the most sixes ever in IPL history.
Chris Gayle- 326 sixes
The self-proclaimed King of sixes, also known as the Universe Boss, Chris Gayle, tops the list with his landmark figure of 326 sixes. West Indies legend and swashbuckling left-handed batsman Chris Gayle has played for Kolkata Knight Riders, Royal Challengers Bangalore and Kings XI Punjab, 3 different teams in his IPL career. He brought in the Gayle storm with his maximum sixes. He looks to cross the 350 mark in IPL 2020 and sits comfortably at the top with the most sixes in IPL.
AB de Villiers- 212 sixes
AB de Villiers, right-handed former South African batsman playing for the team of Royal Challengers Bangalore has etched a name for himself. He debuted IPL in 2008 with Delhi Daredevils team and the last 12 years has played two franchises in IPL. With ups and downs in his IPL career, he came a long way from a disastrous exit in 2008 with only 95 runs and strike rate of 96.63 to scoring the first IPL hundred in 2009. Since his joining Bangalore-based franchise his best season being 2016 where he sent 37 balls smacking out of the stadium. Also known as Mr. 360, the Proteas player has 212 sixes to his cap in the 11 editions of IPL and secures the second position.
MS Dhoni- 209
MS Dhoni, the Ageless Classic and consistent captain of the IPL team Chennai Super Kings since the onset of IPL in 2008. The team has won three IPL championships under his captainship. He takes up to playing for the team when the top players lag and has changed fate single-handedly for CSK with his big smashing hits. Dhoni has scored a total of 4,432 runs in the 190 IPL matches, registered 23 fifties and is the only Indian batsman to hit 209 sixes in the league.
Rohit Sharma-194 sixes
Rohit Sharma, India's opening batsman, shares the limelight with Suresh Raina in hitting 194 sixes. Being the most successful IPL captain, Rohit has played for two franchises and featured in all IPL seasons. His IPL career kicked off in 2008 with Deccan Chargers where he played three seasons for the team smashing 51 sixes and scoring eight half-centuries. In 2011 he joined his home franchise, Mumbai Indians, and led his team to the trophy by striking 28 maximums. Sharma is on the move and does not allow the bowlers to take control against him and has a minimum of nine sixes every season to his glory. IPL 2019 saw him through 10 sixes and he looks at increasing the number of sixes in the approaching IPL tournament.
Suresh Raina – 194 sixes
Suresh Raina, left-handed middle-order batsman of India is a consistent IPL player and part of two franchises, Gujarat Lions and Chennai Super Kings in 12 years of IPL. Raina is IPLs all-time second-highest run-getter with 5,368 runs with his strike rate being 137.14. He had smashed 22 sixes in IPL 2010 when his prime team CSK had won the maiden IPL.  Raina holds the fifth position with 194 sixes.