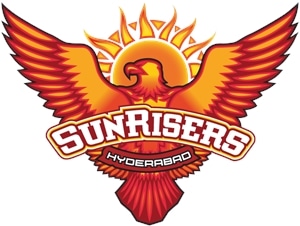 With brand value of about US$68 million, Sunrisers Hyderabad are one of the cricket teams in Indian Premier League (IPL). It is undoubtedly one of the strongest IPL teams in the tournament so far. SRH came into existence in the year 2012 after Deccan Chargers' previous Hyderabad-based IPL team was terminated. The team's current captain is one of cricket's fab four, New Zealand Captain Kane Williamson.
SRH first time appeared in the season 2013 of the Indian Premier League and did a good job to reach play-offs and finish fourth on the IPL points table. SRH is owned by Sun TV Network who bought the team at a hefty price of US$ 12 million in bidding.
The journey of Sunrisers Hyderabad so far is quite good. They have managed to maintain quite a strong position in the IPL t20 tournament. This team won first Championship title in the year 2016 where they managed to beat so far unlucky IPL team Royal Challengers Bangalore.
Apart from the star player Kane Williamson, the team has got the firepower of an Aussie who is none other than David Warner. He has taken the team over the line many times with his outstanding batting. That is why he is the highest run-scorer of Sunrisers Hyderabad and is the three-time Orange cap winner as well.
Tata IPL Sunrisers Hyderabad (SRH) Team 2022
Since 2016, this team has managed to reach playoffs every season with proud. After reaching finals and winning the title against RCB in the year 2016, SRH also reached finals in 2018 season of IPL. But, there was a different story with a different opponent.
They had to face the most consistent team of Indian Premier League Chennai Super Kings in the finals of 2018. The stage was set but CSK never back down and they won the tournament beating SRH by 8 wickets. In 2012, they again reached playoffs but only managed to finish fourth on the table.
As each team has got some USPs, SRH is also known for its ability to defend low totals. Their spearhead and Indian fast bowler Bhuvneshwar Kumar has led the bowling of this team very well. He is also the highest wicket-taker of Sunrisers Hyderabad. Besides, the seamer is also the first player of this team to win Purple cap. Bhuvi is also the vice captain of the team.
In auctions for IPL 2012 season, SRH decided to trade Shikhar Dhawan to Delhi for three players. If we talk about IPL 2022, SRH is very well placed in terms of the team they have. With bowling unit lead by the mystery spinner Rashid Khan & Bhuvneshwar Kumar and batting power by David Warner, Kane Williamson, & Manish Pandey, this team has got the ability to bring any team down. With jonny Bairstow at the top with Warner, they can put big totals on the board and can also chase one.
This season is going to be very much excited and we might see Sunrisers lifting their second title. Who knows what's there in the future, we gotta wait and watch what this team can deliver.
Today SRH Match Schedule 2022 – Sunrisers Hyderabad Match List 2022:
| | | | | | |
| --- | --- | --- | --- | --- | --- |
| Match No | IPL Teams | Match Date | Match Time | Match Stadium | Match Venue |
| Match- 05 | Sunrisers Hyderabad (SRH) Vs Rajasthan Royals (RR) | TUE 29 MARCH, 2022 | 19:30 IST (14:00 GMT) | MCA Stadium | Pune |
| Match- 12 | Sunrisers Hyderabad (SRH) Vs Lucknow Super Giants (LSG) | MON 4 APRIL, 2022 | 19:30 IST (14:00 GMT) | DY Patil Stadium | Navi Mumbai |
| Match- 17 | Chennai Super Kings (CSK) Vs Sunrisers Hyderabad (SRH) | SAT 9 APRIL, 2022 | 15:30 IST (10:00 GMT) | DY Patil Stadium | Navi Mumbai |
| Match- 21 | Sunrisers Hyderabad (SRH) Vs Gujrat Titans (GT) | MON 11 APRIL, 2022 | 19:30 IST (14:00 GMT) | DY Patil Stadium | Navi Mumbai |
| Match- 25 | Sunrisers Hyderabad (SRH) Vs Kolkata Knight Riders (KKR) | FRI 15 APRIL, 2022 | 19:30 IST (14:00 GMT) | Brabourne - CCI | Mumbai |
| Match- 28 | Punjab Kings (PBKS) Vs Sunrisers Hyderabad (SRH) | SUN 17 APRIL, 2022 | 15:30 IST (10:00 GMT) | DY Patil Stadium | Navi Mumbai |
| Match- 36 | Royal Challengers Bangalore (RCB) Vs Sunrisers Hyderabad (SRH) | SAT 23 APRIL, 2022 | 19:30 IST (14:00 GMT) | Brabourne - CCI | Mumbai |
| Match- 40 | Gujrat Titans (GT) Vs Sunrisers Hyderabad (SRH) | WED 27 APRIL, 2022 | 19:30 IST (14:00 GMT) | Wankhede Stadium | Mumbai |
| Match- 46 | Sunrisers Hyderabad (SRH) Vs Chennai Super Kings (CSK) | SUN 1 MAY, 2022 | 19:30 IST (14:00 GMT) | MCA Stadium | Pune |
| Match- 50 | Delhi Capitals (DC) Vs Sunrisers Hyderabad (SRH) | THU 5 MAY, 2022 | 19:30 IST (14:00 GMT) | Brabourne - CCI | Mumbai |
| Match- 54 | Sunrisers Hyderabad (SRH) Vs Royal Challengers Bangalore (RCB) | SUN 8 MAY, 2022 | 15:30 IST (10:00 GMT) | Wankhede Stadium | Mumbai |
| Match- 61 | Kolkata Knight Riders (KKR) Vs Sunrisers Hyderabad (SRH) | SAT 14 MAY, 2022 | 19:30 IST (14:00 GMT) | MCA Stadium | Pune |
| Match- 65 | Mumbai Indians (MI) Vs Sunrisers Hyderabad (SRH | TUE 17 MAY, 2022 | 19:30 IST (14:00 GMT) | Wankhede Stadium | Mumbai |
| Match- 70 | Sunrisers Hyderabad (SRH) Vs Punjab Kings (PBKS) | SUN 22 MAY, 2022 | 19:30 IST (14:00 GMT) | Wankhede Stadium | Mumbai |
Sunrisers Hyderabad Team after the first day of IPL Auction 2022 (Player List) –
| | | | |
| --- | --- | --- | --- |
| S. No. | Players | Price | |
| 01. | Kane Williamson | INR 14 crore | Retained |
| 02. | Abdul Samad | INR 4 crore | Retained |
| 03. | Umran Malik | INR 4 crore | Retained |
| 04. | Washington Sundar | INR 8.75 crore | Bought Player on First Day |
| 05. | Nicholas Pooran | INR 10.75 crore | Bought Player on First Day |
| 06. | T Natarajan | INR 4 crore | Bought Player on First Day |
| 07. | Bhuvneshwar Kumar | INR 4.2 crore | Bought Player on First Day |
| 08. | Priyam Garg | INR 20 lakhs | Bought Player on First Day |
| 09. | Rahul Tripathi | INR 8.50 crore | Bought Player on First Day |
| 10. | Abhishek Sharma | INR 6.50 crore | Bought Player on First Day |
| 11. | Kartik Tyagi | INR 4 crore | Bought Player on First Day |
| 12. | Shreyas Gopal | INR 75 lakhs | Bought Player on First Day |
| 13. | Jagadeesha Suchith | INR 20 lakhs | Bought Player on First Day |
| 14. | Aiden Markram | INR 2.6 crore | Bought Player on 2nd Day |
| 15. | Marco Jansen | INR 4.2 crore | Bought Player on 2nd Day |
| 16. | Romario Shepherd | INR 7.75 crore | Bought Player on 2nd Day |
| 17. | Sean Abbott | INR 2.40 crore | Bought Player on 2nd Day |
| 18. | Saurabh dubey | INR 20 lakhs | Bought Player on 2nd Day |
| 19. | Shashank Singh | INR 20 lakhs | Bought Player on 2nd Day |
| 20. | R Samarth | INR 20 lakhs | Bought Player on 2nd Day |
| 21. | Vishnu Vinod | INR 50 lakhs | Bought Player on 2nd Day |
| 22. | Glenn Phillips | INR 1.5 Cr | Bought Player on 2nd Day |
| 23. | Fazalhaq Farooqi | INR 50 lakhs | Bought Player on 2nd Day |
| | | | |
Sunrisers Hyderabad (SRH) Predicted Playing 11 of Season 15:
Priyam Garg
Rahul Tripathi
Kane Williamson (c)
Glenn Philips
Nicholas Pooran (wk)
Abdul Samad
Shreyas Gopal
Washington Sundar
T Natarajan
Umran Malik
Sean Abbott
Sunrisers Hyderabad (SRH) Full Team Squad of 2022:
Kane Williamson, Abdul Samad, Umran Malik, Washington Sundar, Nicholas Pooran, T Natarajan, Bhuvneshwar Kumar, Priyam Garg, Rahul Tripathi, Abhishek Sharma, Karik Tyagi, Shreyas Gopal, Jagadeesha Suchith, Aiden Markram, Marco Jansen, Romario Shepherd, Sean Abbott, R Samarth, Saurabh Dubey, Shashank Singh, Vishnu Vinod, Glenn Philips, Fazalhaq Farooqi